Ubindi lets you send emails to some or all of your students in simple and reliable ways.


When you send an email through Ubindi, it goes to your students' email inbox. When your students reply it goes directly to your email inbox. There's no 'messenger' on Ubindi.

How it all works under the hood

Emails you send via Ubindi go through a "relay" system, similar to how emails work on
Craigslist
. When you send out an email, it's delivered to each recipient in a way that shows your name as the "from", for example "John Smith". But if a recipient inspects things more closely, the actual "from address" will look something like this:
482ad145-a7a8-46cd-b7b0-f5a994f6730c@app.ubindi.com
. Therefore, your actual personal email address is not exposed to students (Why? While your students signed up for your mailing list, you didn't sign up for theirs... we don't want your email address to end up on some lists you didn't sign up for).
If and when a student replies to your email, their reply also travels through the relay and is delivered to your personal email program (whatever you use). This means that students can simply reply to your email in the usual way, and you'll get their reply in your normal email program as if you are having a regular email conversation.

Sending the right email to the right people

You can send emails to individuals, to all of your students, or to specific groups of students (
using "tags"
).
To email a specific student:

On your 'Students' dashboard, find the student (you can quickly search by name or email address).


Once you've found your student, click or tap the ellipses (three little dots) on the student card and you'll see the option to email that particular student: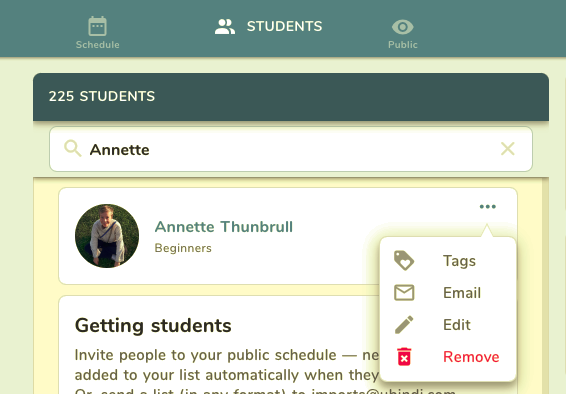 To email ALL your students:

On your 'Students' dashboard, click the 'Email' button.


Compose a subject line and your message, and click "Send" — that's it. You can see how many students will get your email near the bottom of the form (not all students can be emailed,
learn more here
).
To send an email to a special group of students:

You can
use tag
s to send email just to a certain subset of your students. Simply select the tags you want your recipients to have, either on your students dashboard before clicking "Email", or you can select tags in the email interface itself.
Only students that have ALL of the tags you've selected will get your email. So for example, if you select "Tag 1" and Tag 2", only students that have both of these tags will be emailed. Again you will see the number of students that match and who can receive your emails near the bottom of the form.

Email formatting

The interface for emails, and the format for emails that are sent, uses simple (plain) text to deliver your messages. Ubindi does not have "fancy newsletter" features, as there are other products (like
Mailchimp
) that do those kinds of things very well. Instead, Ubindi is about simply and reliably communicating with your students.
Most "newsletter" type emails (the ones with pretty pictures, custom fonts, background colors, etc) just end up in the spam folders of the recipients... so a simple text format is actually much better for you. But what's more important: having your emails look very stylish and pretty? Or having your emails actually be delivered, opened, and read by your students? (Of course it's the latter!)

So when your student gets an email from you, it looks like this:

Please note: there's always a footer which lets students unsubscribe (it's the law) and which also has a link to your public page.

You'll also get a copy of each email you send through Ubindi into your personal mailbox, so that you can have a record of what you've sent. At the top of the copy you receive you'll also see which
tag
the emails was sent to (if you had tags selected), or it went to all your students, or to a specific student.

Don't send out your Zoom links in separate emails to students!

Here's why:

1) Security: Ubindi never exposes your actual zoom link when students register. Instead, they get an email with a "magic button" that checks a few things before taking them straight into class.
2) Attendance tracking: when students click the "magic button" to join class, Ubindi takes attendance automatically. But if they come in using a link you shared yourself, they'll be recorded as 'no-shows'.
3) Avoid confusion: if you mistakenly send a different link than the one you've set on Ubindi, your students won't be able to get into class!
4) Keep it simple: when your clients sign up for class on Ubindi, they get a confirmation email, and a reminder 15 minutes before class. Why send them an extra email, and make more work for yourself?