Setting up payments for classes and videos
Once you've
connected to Stripe
, you have a lot of flexibility and can set up how you want to get paid for your classes or videos.
You can connect passes and memberships, and you also have different options for single (drop in) payments: Fixed price, Donation, or "No payment".
Fixed price
This is the most common set up for classes and videos, and the default: you just set a price, and when a student clicks "register" on a class (or "access" on a video), they are presented with a payment form that lets them pay with a credit card and book. Pretty straight forward!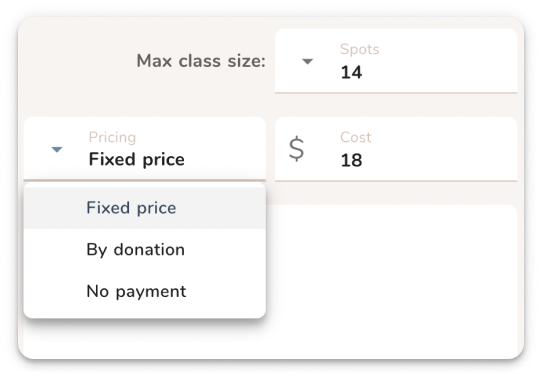 There is a minimum price for fixed price classes: it can't be less than 1 ($, €, £ or whatever your
currency
is). If you want to offer a
free
class or video to people, use one of the other options.
If you don't have a Stripe account connected to Ubindi, you can't take payments of course... but your 'fixed price' classes and videos can still be booked by people. They'll just see a simple "Confirm" button. However, keep in mind that accepting registrations without payment is likely to
cost you significant time & money
.
Donation

The 'Donation' based pricing option is not available if you don't have payments enabled with Stripe.

'Donation' pricing means that you can let people pay whatever they want to sign up for class or access a video. You still enter a suggested price,
which will help to "guide" your clients to pay something reasonable.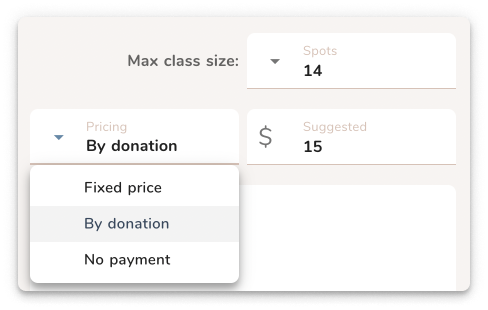 When a student registers for a 'donation' class, your suggested price is shown as the default option. But they'll also see some other options: half and double your suggested price, as well as the option to pay any other amount (which can even be 0):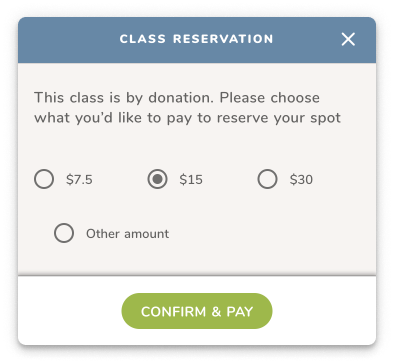 Many teachers use 'Donation' pricing just to get a sense of what people are willing to pay... and they are often surprised to get paid more than what they would have set as a fixed price!
No payment

Sometimes, you can't take payment for a class. For example, if you teach some of your classes in a school, studio, or gym, then you probably won't be handling money for those. But you'll still want to put these classes on your schedule, and let your students register on your Ubindi to let you know they're coming.

Or, you might offer some classes or videos for free. Since you can't set "0" in a fixed price class, you can use the "No payment" option instead. When you set 0 as the display price, the class will actually show "Free" on your public schedule.

So the "No payment" pricing option will allow people to register for a class or access a video without having to pay. Even if you set a display price — the client just sees a simple "Confirm" button to sign up.
Connecting passes and memberships /subscriptions
If you've created
passes
or
memberships
, you can also connect these to your classes or videos. Then people who have one of these packages can use them to sign up. When creating (or editing) a class or video, a list of all the packages you've created is shown in the "Set up" panel. You simply tick the ones that are valid for the class (or video).
When your students try to register for class without having purchased your package yet, they'll see the options to buy it then and there: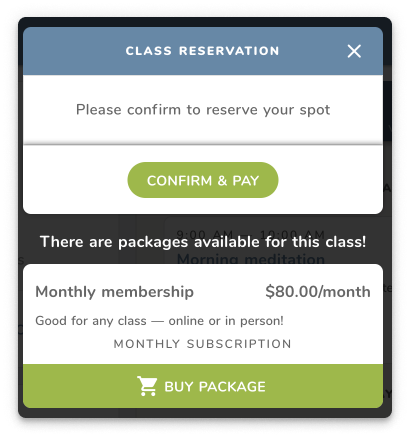 Ticking the 'Package required' box means that only students with a valid pass and/or active subscription can register for that class (so no drop-ins are allowed):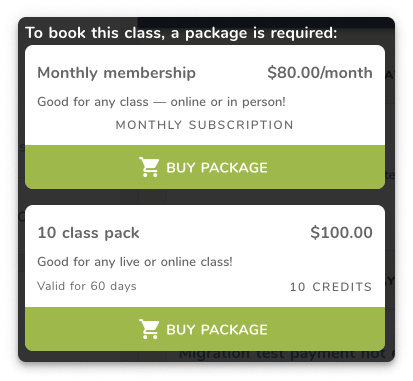 Tip: you can quickly edit the packages set up on any of your existing classes by clicking the 3 little dots on your class or video to go directly to the "set up" panel. You can change what packages are attached for a single individual class, or for the whole class series (all future).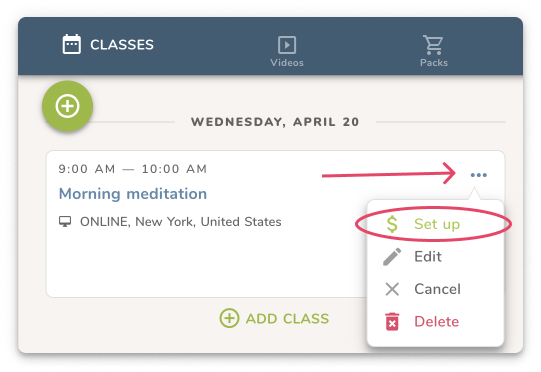 In short, for any class or video you can configure your payment options and client experience just the way you want! You can experiment with these options and simply go to your public schedule and sign up for your own class to
see what it's like for students
.
Related Articles

Creating a class

Before creating your 1st class, you should do the following: Connect to Stripe so you can set up your class with all the correct payment options. Create your packages (class passes and/or subscriptions) so you'll be able to connect them to your ...

Taking payments for classes, videos, passes & memberships

Letting people pay you for classes in advance (and for on demand videos, passes, memberships...) not only saves you huge amounts of time... it completely eliminates the awkward hassle of chasing people up for payment, and you earn substantially more ...

Passes and credits

A pass (often called "punch card") is a bundle of credits that students can buy to access your classes or videos. On Ubindi 1 credit = 1 class or 1 video. Passes don't auto-renew, so when the credits have been used up (or have expired), students need ...

Subscriptions and memberships

You can let your students buy a weekly, monthly or yearly subscriptions (i.e. "memberships") for your classes/videos. You can connect a subscription to any or all of your classes, similar to passes. But subscriptions are a little different: while ...

Choosing your currency

Ubindi works in most countries, and when you set up your Stripe account for payments you can do so in any of the 40 countries where Stripe operates (for a full list, see here). However, your currency is set to US dollar by default (so all your ...