How Ubindi calculates your revenue
It's very simple. Ubindi shows you the payments you've received through the platform, separating classes, videos and packages (that's
passes
and
subscriptions
all together).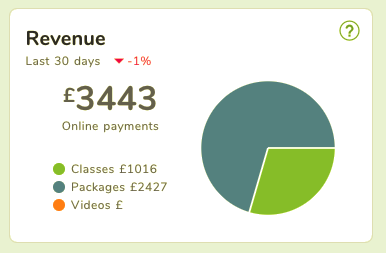 Related Articles

Ubindi pricing

Is Ubindi really free? Yep! If you have a small teaching business, you can manage up to 50 students for free, forever. If you don't use the Ubindi payments platform, you never pay anything for Ubindi. If you do enable payments to let your students ...

Can I use Ubindi for my studio or school?

The short answer is: maybe

Ubindi in other languages

Since we're a small team we're not currently able to offer Ubindi in other languages (it's in the cards for the future though!) However, you can use the Safari browser to automatically translate Ubindi (and any other website) to the language of your ...

Using Zoom with Ubindi

This article will show you how to set things up so you don't need a different Zoom link for each of your classes, and so your students don't need a password to enter class. You'll only need to set this up once, and it will save you and your student ...

Getting your students onto Ubindi

Ubindi offers simple admin tools for teachers: class registrations, tracking attendance, managing passes and credits, and emailing... all a breeze with all your students neatly organized on your dashboard... but how to get students into Ubindi in the ...