This article will show you how to set things up so you don't need a different Zoom link for each of your classes, and so your students don't need a password to enter class. You'll only need to set this up once, and it will save you and your student lots of time and headaches.

How Ubindi handles online class locations

Every class on Ubindi must have a location. For online classes, instead of a physical address, it's simply a web address (URL). Once you create a location on Ubindi, you can use it over and over again for different classes — so you will want a web address that is always the same. On Zoom, that address is your 'Personal Meeting Link'.


Don't use Zoom's 'schedule' feature! When you schedule different meetings on Zoom, the default behavior is that Zoom will generate different links (with different meeting IDs, and different passwords) for each class. This will be very cumbersome and confusing to work with.

In your Zoom account, you have a "Personal Meeting Room", a virtual room that is permanently reserved for you to hold meetings (classes) anytime you want, and it's always in the same place (at the same URL). So if you run your classes in your personal meeting room, you don't have to schedule meetings in Zoom. You simply create your classes on Ubindi... and when class starts, you only need to open Zoom and start your meeting.


Use your Zoom "Personal Meeting Link" for setting up your classes on Ubindi. With password embedded, this will save you (and your students) lots of of time and prevent trouble.

If you're concerned that using always the same link for all your classes will enable unregistered people, 'freeloaders', or random strangers to show up for a class, don't worry. This tends to be very rare, and you can enable the "Waiting Room" feature on Zoom to deal with that (more info below). Also, please know that Ubindi never sends out direct Zoom links for your class to students.

How to configure Zoom & get your Personal Meeting Link

1. Configuring your Zoom account settings

Go to
https://zoom.us/profile/setting
(you may need to log in). Scroll down down and make sure the following settings are enabled (under Schedule Meeting):
Now scroll back up the page a little (still on
https://zoom.us/profile/setting
), and under the 'Security' section, make you sure you enable the following setting:
2. Getting your Personal Meeting Link
Now go to your 'Meetings' page on Zoom (
https://zoom.us/meeting#/upcoming
), see screenshot below. It's the second navigation link on the left. Select the menu that says Personal Room. Your Personal Meeting Link is there, where it says "join URL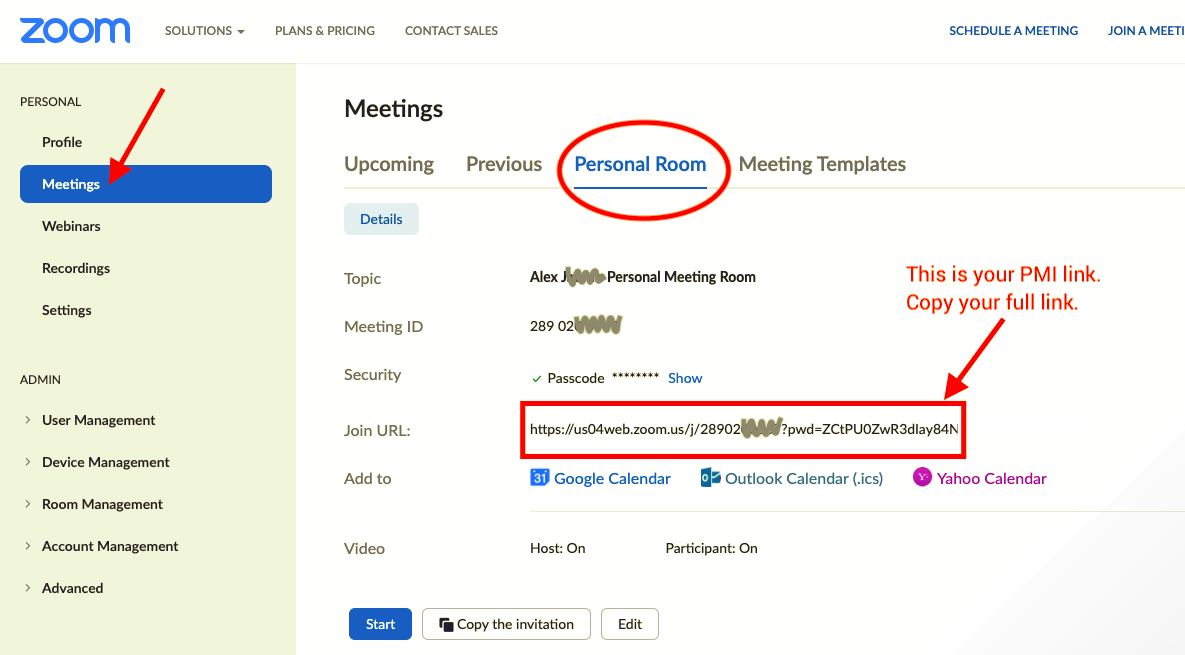 Your Personal Meeting Link will include '?pwd=' followed by a long string of letters at the end. That means your password is embedded in the link, so your students will not need to enter a password when joining a class.


Copy your full Personal Meeting Link. Make sure you have the full link (not just the meeting ID number). The link starts with "https://..." and includes the long string of characters, all the way to the end. This is the link you'll use for your classes on Ubindi. Paste it into the Ubindi link address for your class location.

Saving your online venue on Ubindi

With your full Zoom link copied to memory, you're now ready to create an online class with a virtual location. To do this from scratch:

1) From your Schedule dashboard, click the green "+" button to create a new class. Add title and timing information.

2) On the 'Class Location' step, select "Add a new online location". You will see the following form where you can paste your Personal Zoom Link. Again, make sure it's the full link (not a meeting ID number, but something that starts with "https://..."

3) You also need to enter the nearest large city and country where you'll be teaching from, so Ubindi can get the time zone right. This is especially important if you're expecting students from other cities or even countries.

Once you click "Next", you will have saved a virtual location that you can use for any new classes you create, without having to re-enter the Zoom link or do anything complicated. For any future classes you create, this virtual location will be available for you (along with any other locations you've saved). All you need to do is select it from a drop down menu:

Also recommended: enable "waiting room" on Zoom

You probably want some control over who enters the class (to keep out "gate crashers" who show up uninvited, or to prevent people from disrupting things by entering class after it's started).

Enabling the "waiting room" on Zoom handles this, as it requires you to admit people into class.

Here's how to enable the waiting room on Zoom:
go to your settings page again
https://zoom.us/profile/setting
and under the 'Security' section, turn on the waiting room setting.
How to start your Zoom class
Before your first class make sure you do the following: open your Zoom app (not on the Zoom website, but the app on your computer). Click the little triangle next to the "Start Meeting" button and make sure "Use My Personal Meeting ID" is checked.

Then, when your class is about to happen, simply open your Zoom app and click 'New Meeting'. This will automatically take you to your Personal Meeting Room where students will be joining you for class. Easy-peasy!

Remember that if you have enabled the 'waiting room' option you'll have to let students into the zoom meeting as they start arriving.


Don't send out your Zoom links in separate emails to students!

1) Security: Ubindi never exposes your actual zoom link when students register. Instead, they get an email with a "magic button" that checks a few things before taking them straight into class.

2) Attendance tracking: when students click the "magic button" to join class, Ubindi takes attendance automatically. But if they come in using a link you shared yourself, they'll be recorded as 'no-shows'.

3) Avoid confusion: if you mistakenly send a different link than the one you've set on Ubindi, your students won't be able to get into class!

4) Keep it simple: when your clients sign up for class on Ubindi, they get a confirmation email, and a reminder 15 minutes before class. Why send them an extra email, and make more work for yourself?