How to set up hybrid classes
What's a hybrid class?

Simply put, a hybrid class is a session that can be attended either in person or online. So you will be streaming the class from a venue with participants in a room, while other students will be following the session online.

How to set up a hybrid class on your schedule

On your schedule, you should create 2 different classes that happen at the same time: one at a physical venue, and one at your
online location
.
Your students who register for the online session will get their
confirmation email and reminder email
with a button to join the online class in the the usual way.
Once you've set up your classes it would look something like this, y
ou can add 'online' and 'in-person' to each class title for easy differentiation
: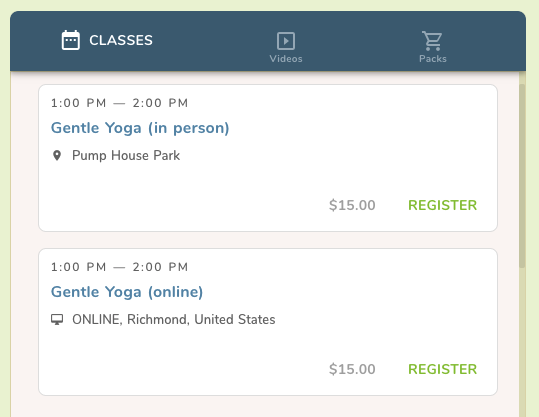 If you want, you can price each class differently, set maximum class sizes independently (especially if you need that for the in-person class), and you can even connect each session to different
passes
or
memberships
. You'll also see 2 different
registration and attendance
lists for each of these two classes (so that way you know who was there in person, or who joined online).
Related Articles

Using Ubindi for online classes

Ubindi works especially well for online classes (whether on Zoom or pretty much any other video meeting software you already use). To create an online class, instead of setting a physical address, you simply use a meeting link. How to create an ...

Using Zoom with Ubindi

This article will show you how to set things up so you don't need a different Zoom link for each of your classes, and so your students don't need a password to enter class. You'll only need to set this up once, and it will save you and your student ...

Instructions for students: joining an online class

A note on browsers: Ubindi doesn't work well with the Microsoft Edge browser. If you're using Edge, please accept our apologies. You'll need to use any other browser. If your class is on Zoom Almost all teachers are using Zoom to conduct their online ...

Creating a class

Before creating your 1st class, you should do the following: Connect to Stripe so you can set up your class with all the correct payment options. Create your packages (class passes and/or subscriptions) so you'll be able to connect them to your ...

Emailing students who registered for a class

You can email students registered for a specific class before class starts or after the class is already over. This is useful if you need to cancel class, or if you want to send some materials to all the people who registered for class (like a class ...